Right whales are known to migrate from the primary calving area along the east coast of Florida and Georgia, through the mid Atlantic coast to critical habitat areas that stretch from Cape Cod Bay through the Gulf of Maine. In the summer and autumn months, research has been focused for over 37 years on right whale critical habitat areas in the Bay of Fundy and on Roseway Basin, south of Nova Scotia. Starting in 2010, for the first time in 35 years, researchers documented a prolonged shift in right whale habitat use in the summer and autumn, with fewer right whales being recorded and for shorter periods of time.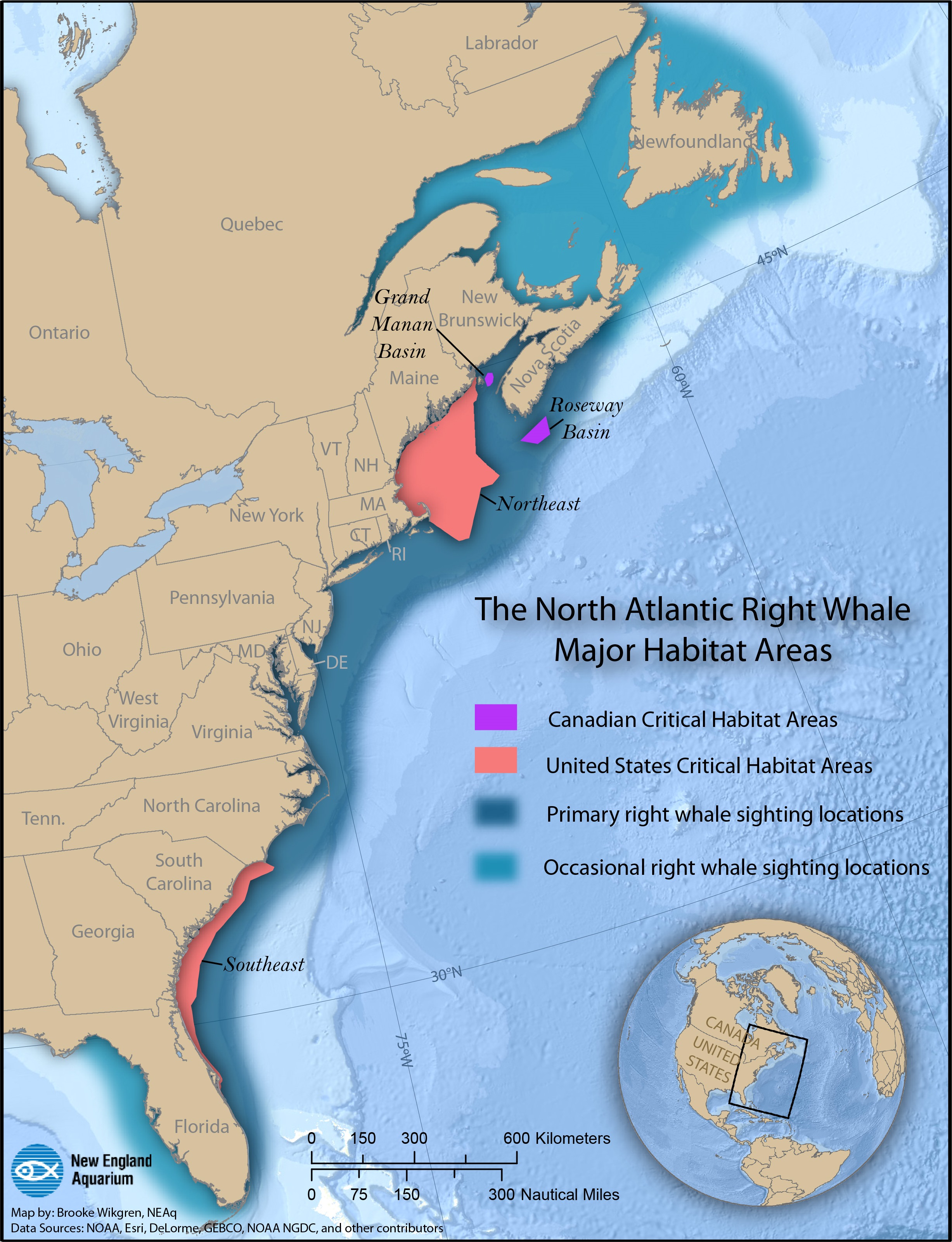 There have been opportunistic sightings of right whales in the Gulf of St. Lawrence since the 1950s, but acoustic work in selected areas by Fisheries and Oceans Canada and an aerial survey that located an aggregation of right whales offshore of the Acadian and Gaspé Peninsulas in July 2015 suggested that more right whales may be moving in to the Gulf of St Lawrence. This coincides with oceanographic changes that are underway in the greater Gulf of Maine and Canadian Maritimes: these waters are warming faster than 99 percent of the world's oceans and Arctic ice melt is causing an influx of fresh water. In collaboration with researchers from the Anderson Cabot Center for Ocean Life at the New England Aquarium and Dalhousie University, we have expanded research surveys into the Gulf of St. Lawrence and have deployed new technologies to look for additional potential critical habitat for right whales in the Gulf of St. Lawrence.
Visual surveys in the Baie de Chaleurs began in 2015 and were expanded to include areas west of Cape Breton and east of the Acadian and Gaspé Peninsulas. In 2016 colleagues at Dalhousie University deployed an autonomous underwater acoustic glider in select Gulf of St Lawrence locations. This glider provided near real-time location data on right whales (and three other baleen species) based on acoustic recordings of their calls. The right whale sighting data are available to the public though the NOAA Sighting Advisory System and the autonomous acoustic glider data are available to the public through Woods Hole Oceanographic Institution and the Canadian Wildlife Federation. We have developed a partnership with the St. Lawrence Global Observatory to help make these data available online and allow us to share directly with the shipping industry. We will continue both the visual and acoustic monitoring in 2017 and 2018.
The deaths of three right whales in the Gulf of St. Lawrence over a three-week period in summer 2015 and two right whale entanglements in fishing gear in 2016 underscore the urgency of these changes. We plan to use these data to work with the fishing and shipping industries to reduce the threat of human-caused mortality in the Gulf of St. Lawrence as has been done in the Bay of Fundy and on Roseway Basin.