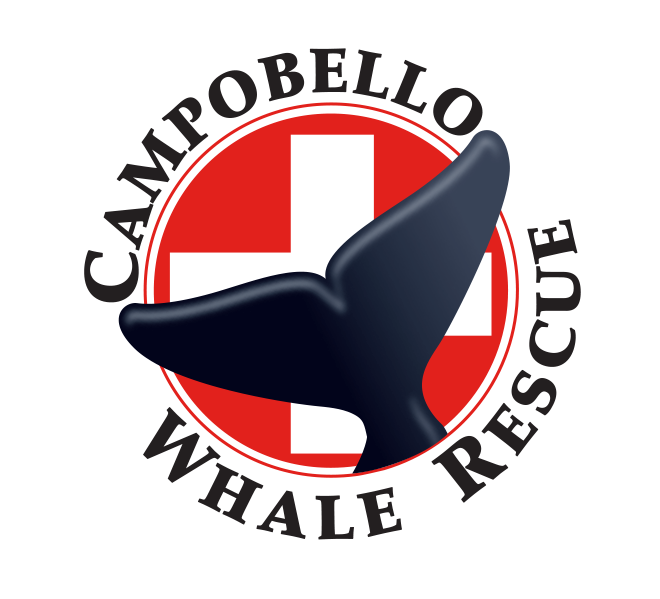 The Making of a Whale Rescue Team - our training

Approaching whales, especially those entangled in fishing gear, is dangerous and requires specialized skills and equipment. Only those licensed and permitted by Fisheries and Oceans Canada to conduct whale disentanglement and release operations may get close to a whale. It's the law!
We're based on Campobello Island, NB in the Bay of Fundy, right on the border with the US state of Maine. Our boats can respond quickly to whales that are in distress in our area. But right whales range far and wide, from the Gulf of St. Lawrence to the coastal waters of Florida. We can't cover the entire range. In the USA entanglement teams operate out of Cape Cod and elsewhere. But the area in Canadian waters is vast. So, we're training others in disentanglement techniques. We've worked with fishermen on Grand Manan and Shipegan, in New Brunswick and in, .. Quebec.
Training starts with a three day course that covers the basics - safety, documentation, rules and regulations, tools and equipment. It then moves on to boat handling around whales, and practice in handling pole knives, throwing grapples, flying tools, etc. Whale behaviour and identification, photographing identifying characteristics, preserving the entanglement gear and use of satellite tags round out the curriculum. It is a lot to absorb and only scratches the surface of what an disentangler needs to know.
Those taking the training are already experienced in seamanship, boat handling, first aid, and radio operation and knowledgeable about fishing gear. Comfort on the water in all conditions and the ability to stay calm under pressure are necessary attributes.
Successful completion of the course qualifies the prospective disentangler as an Apprentice and permits them to work with more experienced disentanglers and gain experience. But they won't be cutting any lines or making direct contact with any whales. Eventually, they will graduate to Whale Rescue Assistant which brings them closer to the action. Next, as a Whale Rescue Team Leader - Small Whales, they will be able to lead disentanglements for whales under 5.5 meters. Only a few will make it to Expert Whale Responders who can lead disentanglement efforts on large whales, including the North Atlantic right whale. There are only five expert whale disentanglers certified and recognized by the government of Canada, in the entire country. Two of them are on the CWRT!